Accurate and quick analysis of sheet metal distortion and thickness at work site
Product Description

AutoGrid comsmart can analyze distortions in molded panels. After molding process, 4 CCD cameras take images of the grid pattern which is printed beforehand on sheet metal prior to molding and calculate the amount of deformation performing various types of analysis including the sheet metal elongation rate and distortion.

After taking a single shot with the lightweight mobile measuring head equipped with 4 CCD cameras and then calculating 3D coordinates for grid intersection points, dedicated software is used to construct an FLD (Forming Limit Diagram) that includes the distortion amount, sheet metal thickness reduction rate and FLC (Forming Limit Curve) information to enable the formability of the panel to be analyzed.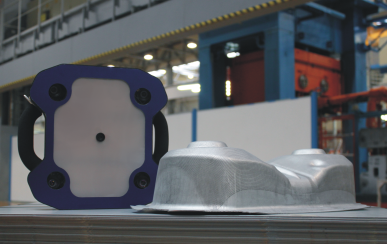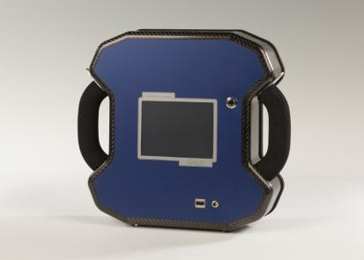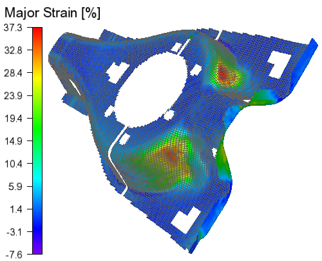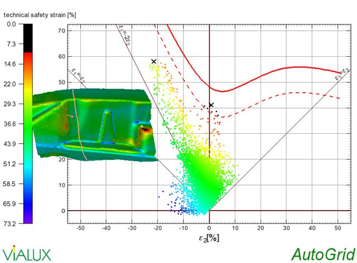 Product Features
Wireless measuring head
Easy operation with touch panel on the measuring head
Lightweight measuring head
Easy to measure by taking images with 4 CCD cameras simultaneously
(measurement is complete using a single button)
Can easily analyze distortions using dedicated software
Can analyze overall distortion trends by linking all measured data
No need to calibrate for each measurement
Product Specifications
| | |
| --- | --- |
| Camera resolution | 5M (per camera) |
| Touch screen size | 5.8-Inch |
| Measuring range | 340 mm x 390 mm (maximum per single shot) |
| Focal distance adjustment laser | Class 2 |
| Sensor weight | 2.9kg |
| Sensor size | 315mm x 315mm x 80mm |
| Measuring time | 1/100 seconds |
| 3D measuring time | 15,000 points per minute |
| Results display pattern | Distortion color map, distortion cross-face analysis, Forming Limit Diagram (FLD) and Forming Limit Curve (FLC) |
| Measurable numerical values | Nominal strain, true strain, Mises equivalent strain, sheet thickness, sheet thickness reduction rate, grid intersection point coordinates (x, y, z) |
| Formats that can be output | ASCII、AutoForm、Pam-Stamp、LS-Dyna、STL、AutoCAD |
Related Solution
Related Video