Non-contact 3D measuring machines are introduced from its early models, that have contributed to high-precision quality assurance required for auto parts as well as improvement of measuring skill and branding.
TAIHO SEIKI CO., LTD. which designs, develops, and sells from dedicated auto parts molds to manufacturing facilities, has had deals with many major auto makers such as Toyota Motor Corporation. and other Toyota group companies. At present, they are implementing total engineering with an eye on eSQCD in production lines and equipment from material input to finished products, and they are promoting manufacturing that meets the high demands of their customers.
Especially, they focus on a quality control system. They placed in-house facility "Taiho Seiki Measurement Analysis Center (T-MAC)" and introduced 3D-CAD data, visual analysis, and 3D simulation technology based on accurate actual measurement. In addition to quality assurance of their own products, they perform a wide range of measurements, including reverse engineering projects from other companies and cultural property measurement that scans national treasure-class Buddha statues.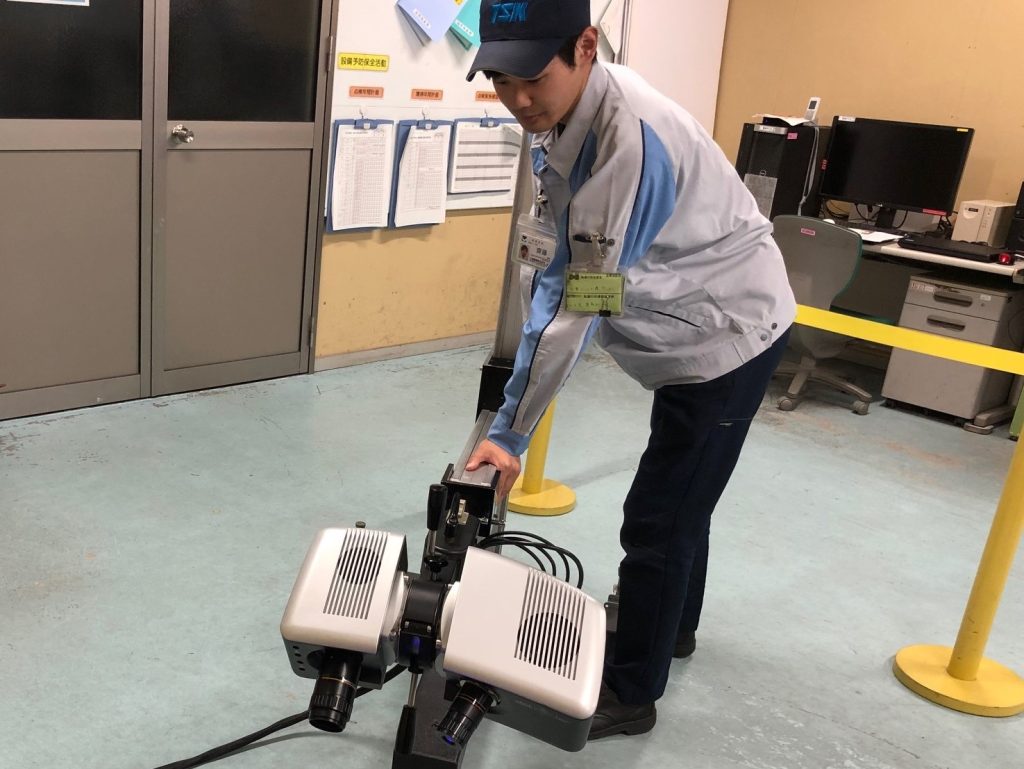 As one of the important missions of T-MAC is to improve the measurement skill that supports Taiho Seiki's equipment business and mold business, they are pursuing machines to introduce to improve the work accuracy, the way to handle it, and more efficient methods as well as daily work.
The quality assurance department of the company which is in charge of measurement started introducing a non-contact 3D measuring machine "ZEISS COMET" from Tokyo Boeki Techno-System Ltd. (TTS, hereinafter) since 2003. Followed by that, they introduced an articulated 3D measuring system "VECTORON" series in 2008, "COMET L3D" in 2012, "COMET 6" in 2015, and "COMET automatic measurement system", a robot-type measuring system which can automate measurement to inspection.
What is required for a measuring instrument at a site where quality is important? What is the point to trust the products of TTS?
We interviewed them to ask those questions.
Mr. Motohiro Niwa, General Manager
Quality Assurance Department
Responsible for quality assurance and TQM promotion. He has been promoting measures internally to improve quality control.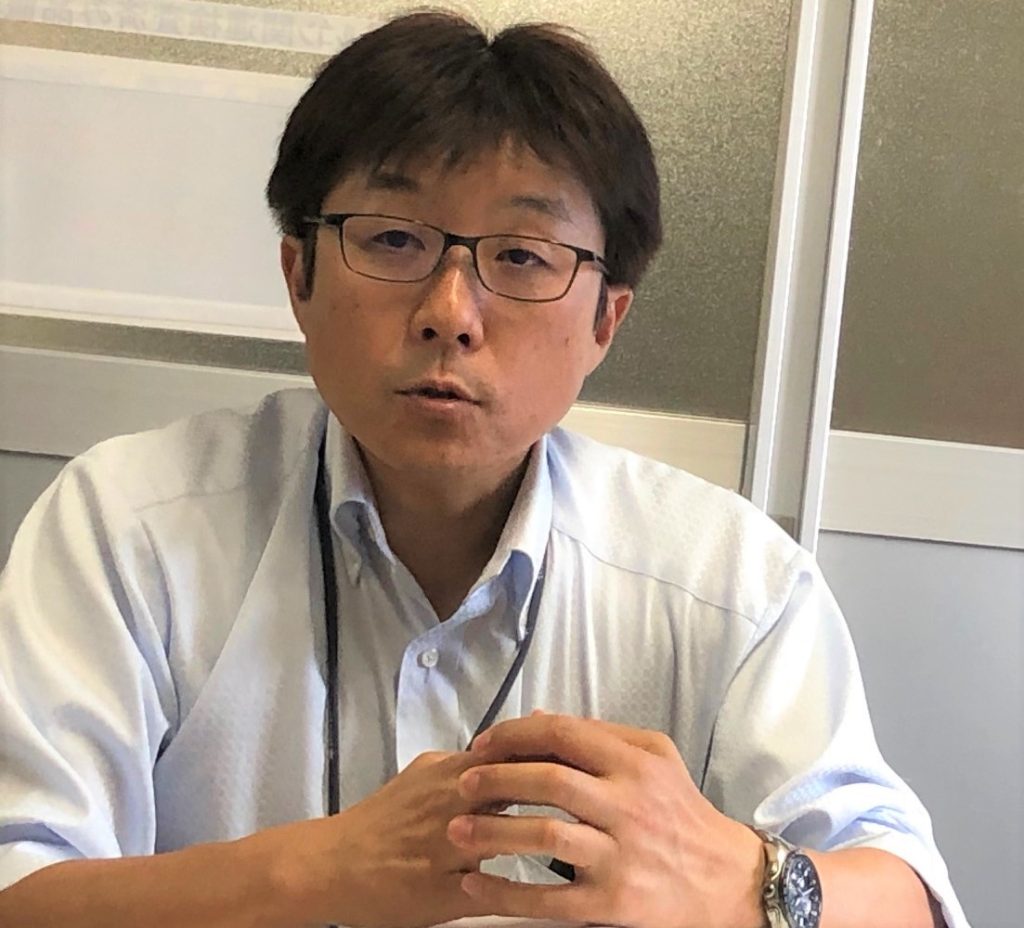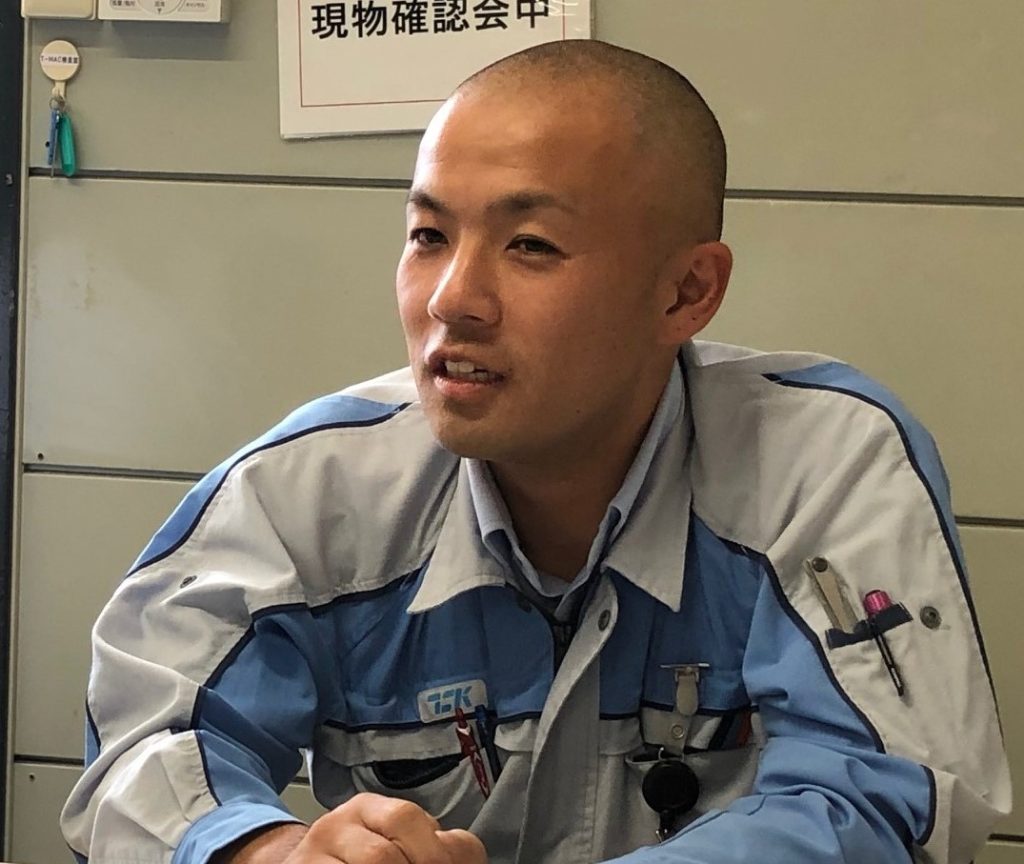 Mr. Soichiro Taguchi, Leader
Quality Assurance Department, Measurement Technology Section
As a field manager involved in measurement work, he manages his team and focuses on measurement people resource development.
Mr. Ryoichi Saida, Senior Expert
Quality Assurance Department, Measurement Technology Section
He researches technology and analysis methods as a technician involved in on-site measurement. He is also in charge of creating macro of analysis software.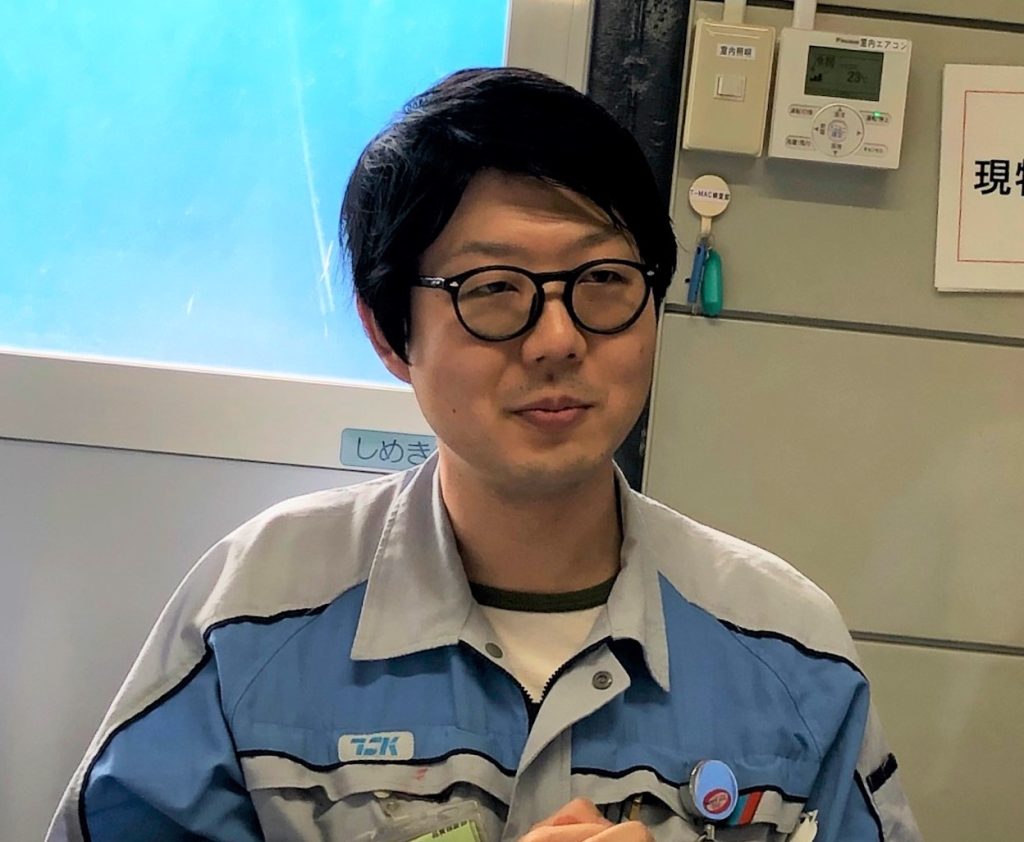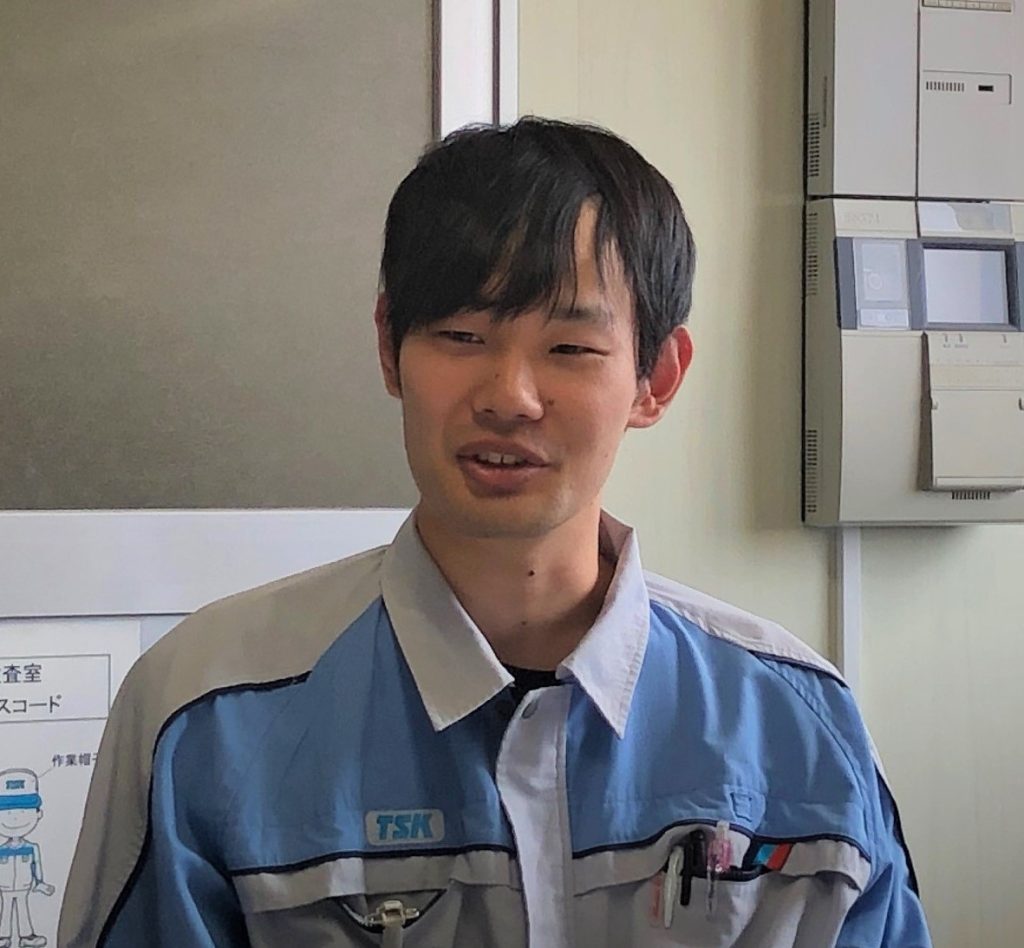 Mr. Shinya Saito
Quality Assurance Department, Measurement Technology Section
Using "COMET" and "VECTORON", he is in charge of quality assurance work as a young measurement technician.
The performance of the measuring machine and the responsiveness of the person in charge are key to the introduction
Your company started using a non-contact 3D measuring machine since 2003, such an early time, and have been introducing one after another since then. Could you tell us about the background story?
We ourselves first got involved in selection when we introduced the articulated 3D measuring system "VECTORON" back in 2008. The biggest reason to have the machine was that our supplier had already introduced it. We would have benefits if we could perform measurement with the same infrastructure. Purchasing 6 units in 5 years, we are currently conducting on-the-job training for the manufacturing department to complete our own processes.
Regarding the next introduction, the non-contact 3D measuring machine "COMET", we decided to have it due to increasing required accuracy of customers. Point cloud data scanned by COMET is organized with higher precision and it's easier to post-process it than the data acquired with VECTORON. It's also become easier to give processing instruction as it shows a color map of the overall shape, though VECTORON has the same feature.
It was 2012 when we introduced COMET. It was the time the economy was just recovered from Lehman shock and order volume from customers was getting increased. We thought that it was a must-have equipment for a better performance and decided to purchase it.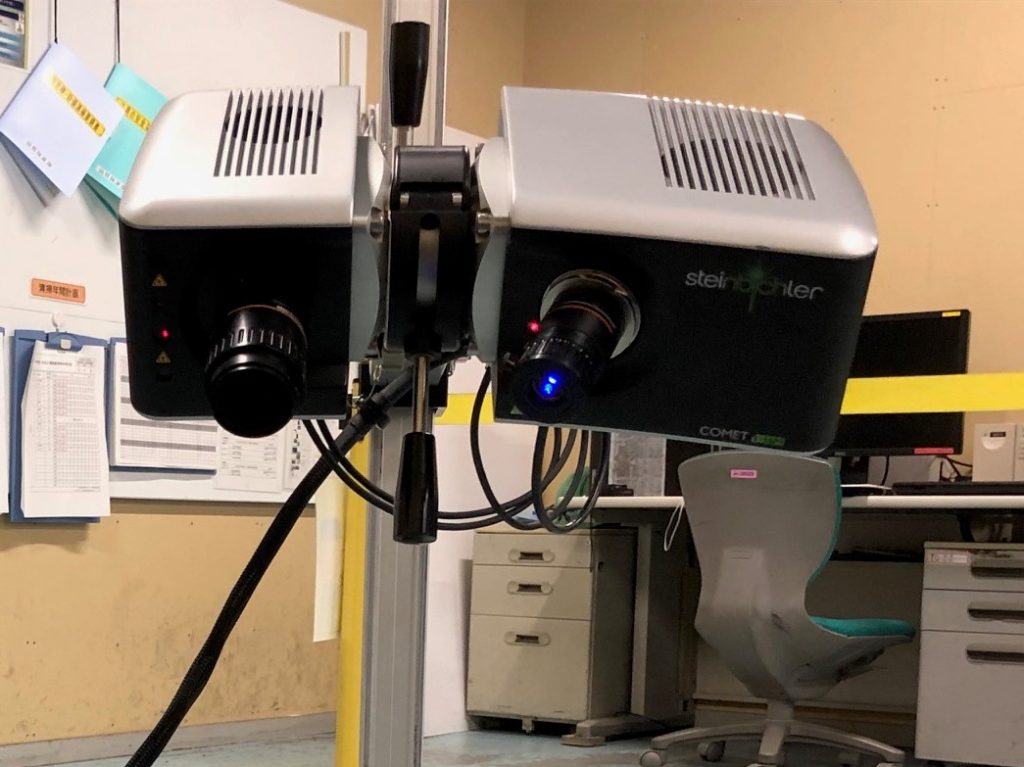 The point we chose COMET 6 was the high-precision, wide angle of view, and easy handling.
Also, there has been a movement to measure even larger products since around 2015 and we have decided to buy a model with higher performance. The robot-type COMET automatic measurement system introduced later was the first unit sold by TTS. We thought that we could meet the needs of reducing the physical burden on humans and measuring a lot with increasing the accuracy.
Did you compare our products with other companies' machines?
The truth to be told, when we introduced COMET L3D, yes. As a result, we evaluated the precision of point cloud. Good or bad, data of other companies are automatically averaged on PC. What we were seeking was data which is exactly same as what the object is. We need data that shows even minor dents and distortions precisely, but other systems automatically smooth the data. For us, who want to offer accurate reverse engineering, so this was a big problem. COMET L3D was the only model which could provide us the precise data among the compared machines of other companies'. That's the reason why we chose COMET L3D.
In addition to it, it was easier for us to use COMET series including software as we were used to them after many years of use, and we'd built a good cooperative relationship with TTS when it comes to the system. Those were also the reasons to decide to go with COMET L3D then.
Using analysis software such as "PolyWorks" and "3D-Magic" for VECTORON, we had many requests on the functions. TTS supported us by customizing them dedicatedly for us upon our requests. They always respond us promptly with a good understanding of our needs while there are many companies which don't take care of their users once the selling process ends.
TTS after sale service and good response for our inquiry were the keys that we decided to introduce many models from them.
What we are doing is understood by TTS member all the time which relieves us as we can talk about any issue occurred on the process immediately. Regarding the analysis software macro, now we can use it with rearrangement after TTS taught us how to use it thoroughly.
Did you see any change after introducing those machines?
Yes. It was after the introduction of VECTORON in 2008 that the process of utilizing measurement information in subsequent processes was established and became well known throughout the company.
In particular, since the introduction of the new model of VECTORON in 2011, each department has adopted a business flow to use measurement results with VECTORON taken by the Quality Assurance Department as standard.
Just around this time, we started to increase the number of units, but this was due to a change in the accuracy assurance system of our business partners. With regard to the delivery of presses and dies, "color map is essential" has become a condition for quality assurance, and each department has begun to recognize the importance of accurate measurement. From that point on, further accuracy was required, and high-performance measuring instruments were introduced as necessary.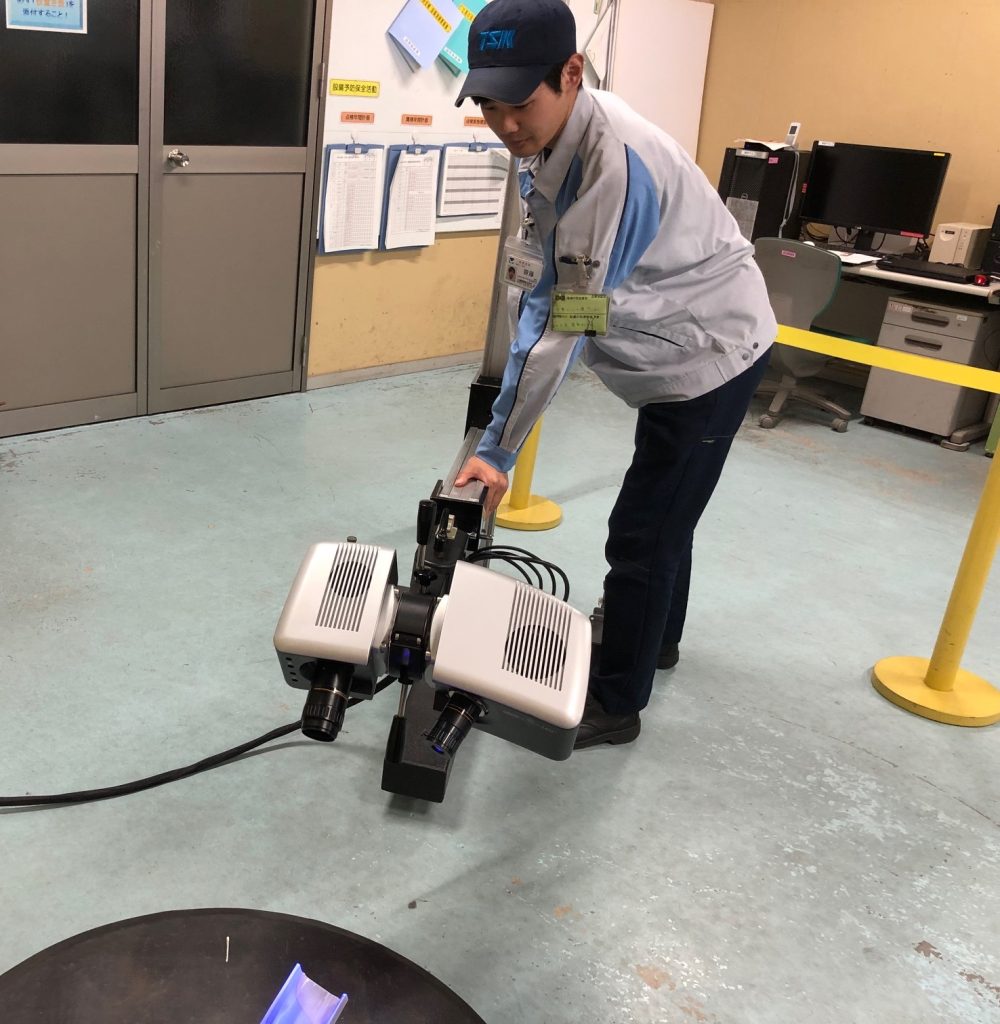 Research with the intention of using up the equipment, benefiting customers.
Your company uses various types of non-contact 3D measuring machines. Do you see any merit on the introductions?
The biggest benefit was that now the measurement results can be evaluated on surfaces and color maps while they used to be just points. Since the information is represented in the overall shape, the response of the client is completely different. With conventional CMMs, even if the people in charge saw the measured coordinates, they couldn't tell if it's OK or NG after all unless they asked someone who could tell. On the other hand, with VECTORON and COMET, those areas which used to be impossible to detect and see are displayed as surfaces consist of point cloud, and distortions can be found at a glance as they are colored.
Those who are related to processing in technology department were all happy for the result, and it spread all at once. There were many critical opinions about non-contact type measuring instruments before introduction, but once the measurement results were shown visually, it was easier to persuade, and the understanding of the actual site was advanced.
Particularly, the company was highly evaluated when it became possible to measure plate thickness with high accuracy with VECTORON. Before, when we scanned both sides of the board, the error was large and it was so hard to find a reliable value. However, in cooperation with TTS, we have built our own original system which has enabled us to measure thicknesses that are almost the same with the actual value, due to this, evaluation in the site has increased.
The thickness measurement was a process of "selecting the measurement point by human judgment based on the molding simulation result and measure", but there is a possibility that you may miss error that occurred several mm beside the measurement point. If it is missed, a defect will appear in the subsequent process. It is a big benefit for technicians that the overall shape is displayed on surface and the measurement result itself is highly reliable.
For example, torque convertor which is a small unit with a complicated structure consisting of 30 of small slits, COMET 6 was able to produce the high-accuracy measurement result of the object which could be used for measurement accuracy evaluation. This torque convertor measurement is a typical example that shows the accuracy of the machine. Additionally, measurement time has been significantly reduced, too.
We heard that you've measured national treasure level Buddha statue. What is the story?
It all started when our officer in charge of quality assurance brought us the Buddha statue and said "show us how far our measurement technology can do." Using all the devices we could use, we pursued the accurate value and posted the photo on our website. One day, there was a measurement request sent from one company which had a Buddha statue saying "we'd like to have a replica."
We visited the company with our measurement device and performed a measurement demonstration in front of curators. Later, we had a formal contract with them. According to them, our attitude to treat the object with great care and the high accuracy were the key points they made a decision. Since then, we've taken a measurement order from the company once a year. Although the project is not related to auto parts field directly,
You attach great importance to quality assurance technologies such as accurate and difficult measurements.
That is correct. We always say "provide an output that makes the receiver happy." We always have to know what our customers need when we measure. We believe we can perform better measurement if we know it. If our performance makes our customers happy, they will give us orders again, which results in building good relationships with them. That's what we believe.
In order to make it happen, we have a commitment to using up measuring machines. We research devices we introduced thoroughly to learn the tendency and offset of each. For instance, we check how far can an arm type measuring machine be extended and where the error grows, then share the information. Therefore, we are confident that we have more actual values than brochures.
Also, to keep the accuracy of devices, we clean up the system along an instruction of more than 30 pages when each measurement project finishes. Here is another thing! You are not going to believe this but we name each machine so that employees use and treat them with best care, and this is very effective. Our machines show longer life span and stable high accuracy if they are treated in a good manner. They always respond to the way we treat them. They are small things, but we believe such care leads to the quality of daily work and it is transmitted to our customers.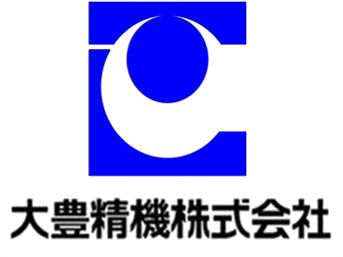 TAIHO SEIKI CO., LTD.
Taiho Livernois Automation Co., Ltd. was first established in 1973 and changed the name to TAIHO SEIKI CO., LTD. in 1978. Starting from design, development, and sales of press automation device and mold, they have enhanced their business to development of energy reduction and eco-friendly facility, and design and development of concept models now. In recent years, they also focus on quality assurance and improvement of measuring skill, and undertake not only auto-related orders but also cultural property measurement orders and measurement projects from other companies and industries.
【Product used in this case study】COMET
※This model is no longer in production and sales. We still offer support for our COMET users.
Please contact our sales staff for details. Also, please see the page of new camera-type 3D scanner FLARE series.