Instant measurement of new car exteriors and plating without preparation
Using an arm-type coordinate measuring machine and contact probe, it becomes winner of the Excellence Award in the SUV category at the Tokyo Auto Salon 2023
Matsumoto Automobile Co., Ltd. is a manufacturer of aero parts and aftermarket parts for automobiles established in 1968. The company's own brand "M'z SPEED" is headquartered in Higashi Osaka City, Osaka Prefecture, and has six franchise stores from Sendai to Fukuoka in addition to directly managed stores. The company also has its own factory to correspond to orders.
The company handles a wide range of manufacturers, from Japanese cars such as Toyota, Honda, and Nissan to foreign cars such as Audi, BMW, and Cadillac, and offers a wide variety of items such as aero parts, aluminum wheels, suspensions, mufflers, and interior parts. They design, manufacture, and sell all of these parts in-house.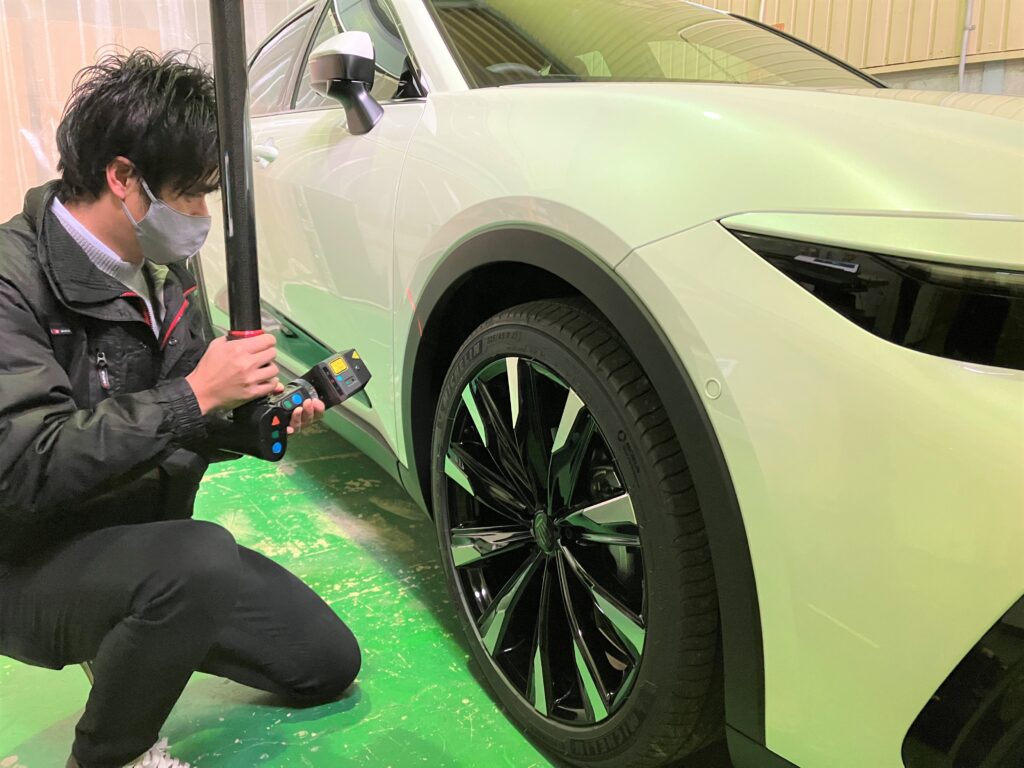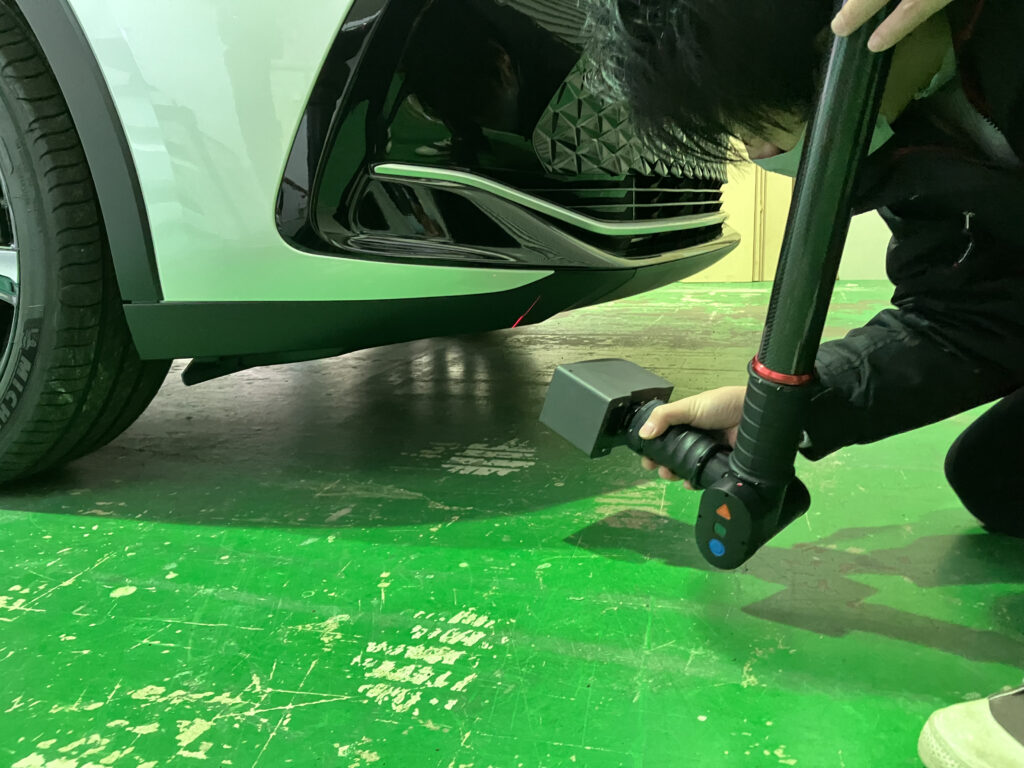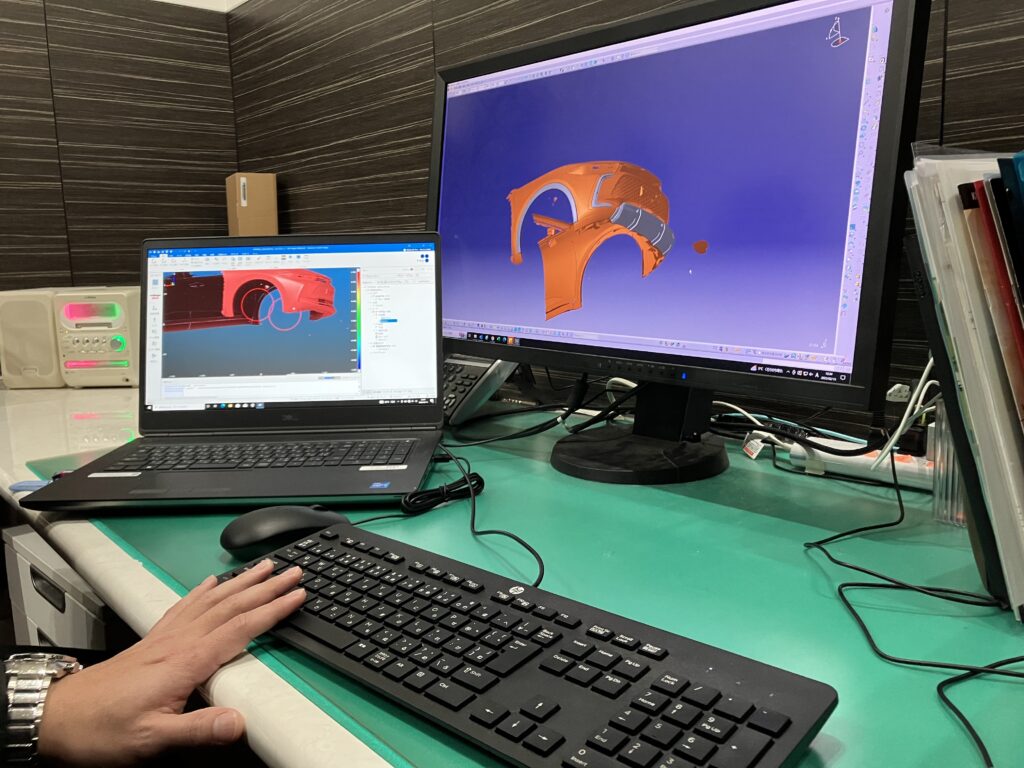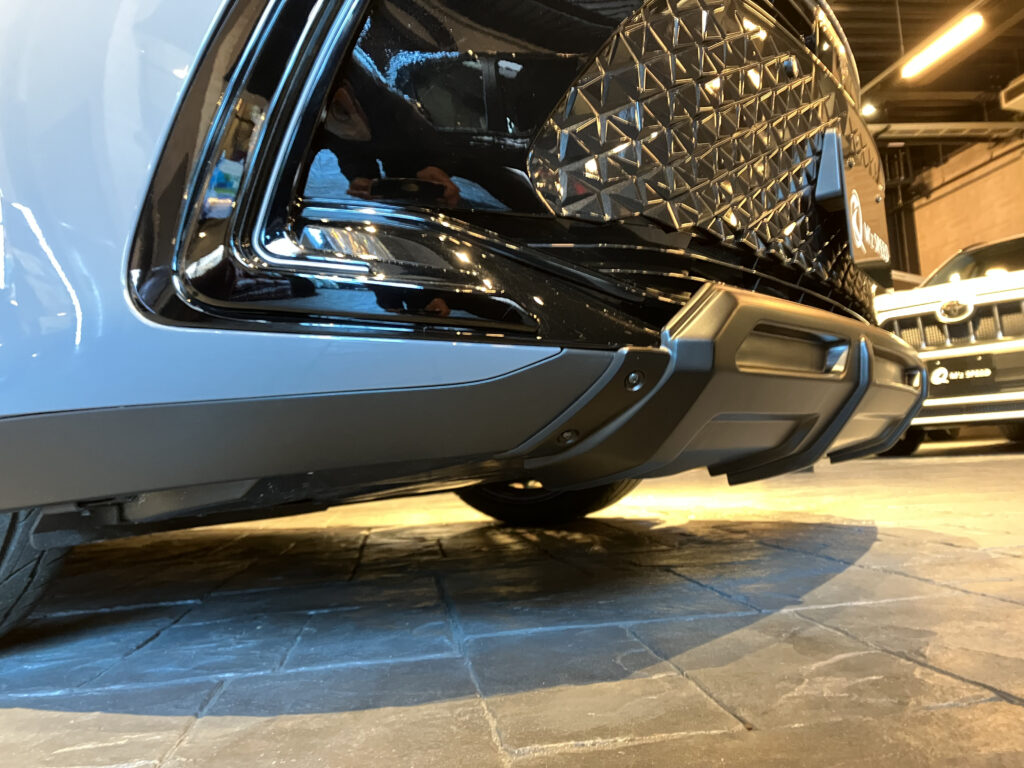 As a parts manufacturer, they have to start development for customers who want to customize these parts as soon as new cars are released by various companies. What is indispensable for this is efficient measurement of actual vehicles and conversion of measurement results into 3D data.
Matsumoto Automobile has been developing designs using 3D CAD from before, and the importance of measuring machines was shared within the company. In September 2022, the company introduced Tokyo Boeki Techno Systems(TTS)' VECTORON arm-type CMM and analysis software 3D-Magic REGALIS to replace the measuring machine it had been used for many years.
Immediately after the introduction, a fully customized model of Toyota's new "Crown Crossover" was developed, which was voted by visitors to the "Tokyo Auto Salon 2023" as the winner of the SUV category's excellence award. We spoke with them in detail about how our "VECTORON" helped them win the award.
The Challenge

Errors on of existingmeasuring machine that had been in use for 7 years had increased.
Measuring plated parts and underbody of the car was difficult and took a lot of time to prepare.
Even after measurement, it took time to clean up white spray and reference point markers.
Solution

After switching to an arm-type system, errors were reduced and it became easier to handle the system.
No need to move the car or lift it up; measurements can be taken immediately on the site.
Preparation work is no longer required, eliminating the need for "post-measurement cleanup," which used to take more than half a day.
Mr. Kadota and Mr. Nakai, Information System Department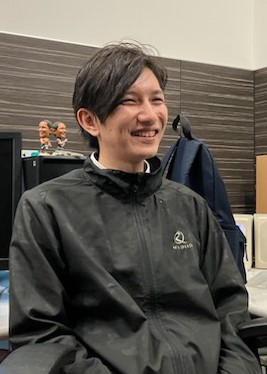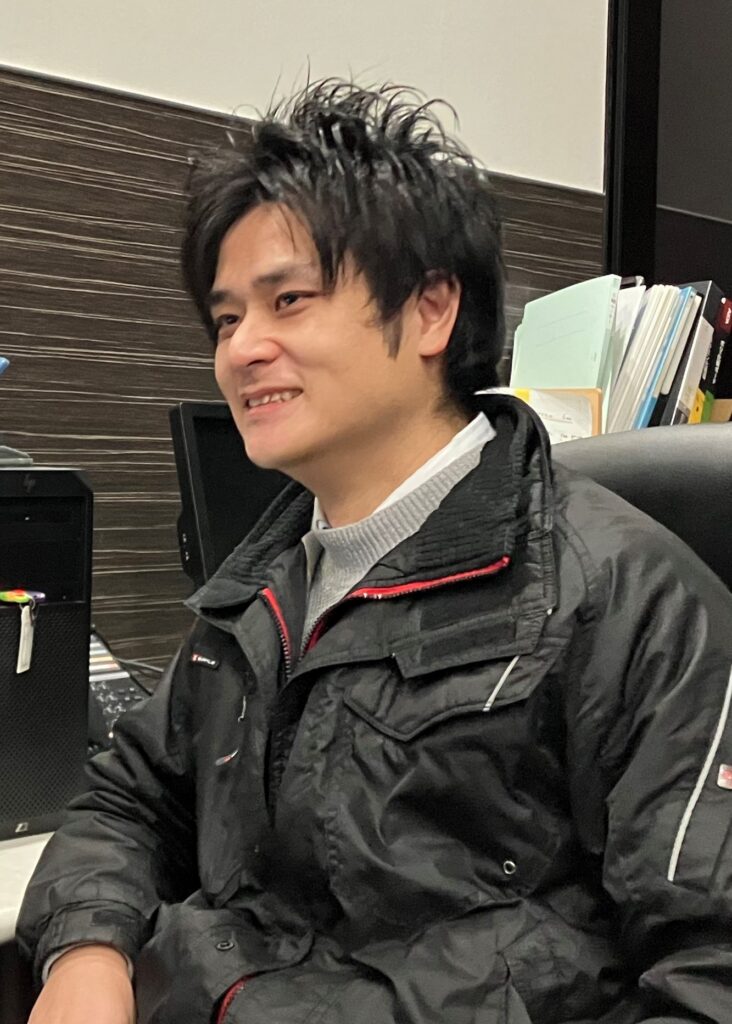 To design with 3D CAD, they measured the actual car and drafted a design with Mr. Toru Matsumoto, president of the company, based on the 3D data they created. Then the 3D design data from the measured shapes is created. The company measures 12 to 13 new cars a year for both domestic and foreign manufacturers.
We were looking for a model that can precisely measure a large surface.
Congratulations on receiving the Excellence Award in the SUV category at the Tokyo Auto Salon 2023. Is the "VECTORON," which was introduced in September 2022, also used in this parts development?
Yes, it is. Immediately after the introduction, we got operation training of "VECTORON" and "3D-Magic REGALIS" using the actual car at hand. It was not until this development of parts for the new Toyota "Crown Crossover" that we started to measure and create data on our own. We are relieved to receive the award for that car again
Our company has long emphasized development with 3D CAD design. I believe that other companies in our industry use clay and some 3D data, but I believe that there are few manufacturers who can proceed with development on complete 3D data like we do. We had been using CMMs for some time, but after 7 years of use, they became prone to errors, and we learned about VECTORON when we were looking for a new measuring machine.
How did you come to know about VECTORON?
Actually, a sales person from TTS was a fan of our "M'z SPEED" and approached us at the Tokyo Auto Salon 2020. He was talking with the president, Mr. Matsumoto, about how they were selling such a measuring machine, and it was right around the time when the Information System Department was also considering a new measuring machine, so I asked him to consult with us.
During the seven years that we had been using the previous model, we looked several times for a candidate. The weak point of the previous measuring machine was that it could not take data where the laser could not be illuminated. I had tried a handheld type, but when measuring a large surface such as the car body, the blurring would increase. I felt that an arm-type was better, so I was very interested in the VECTORON.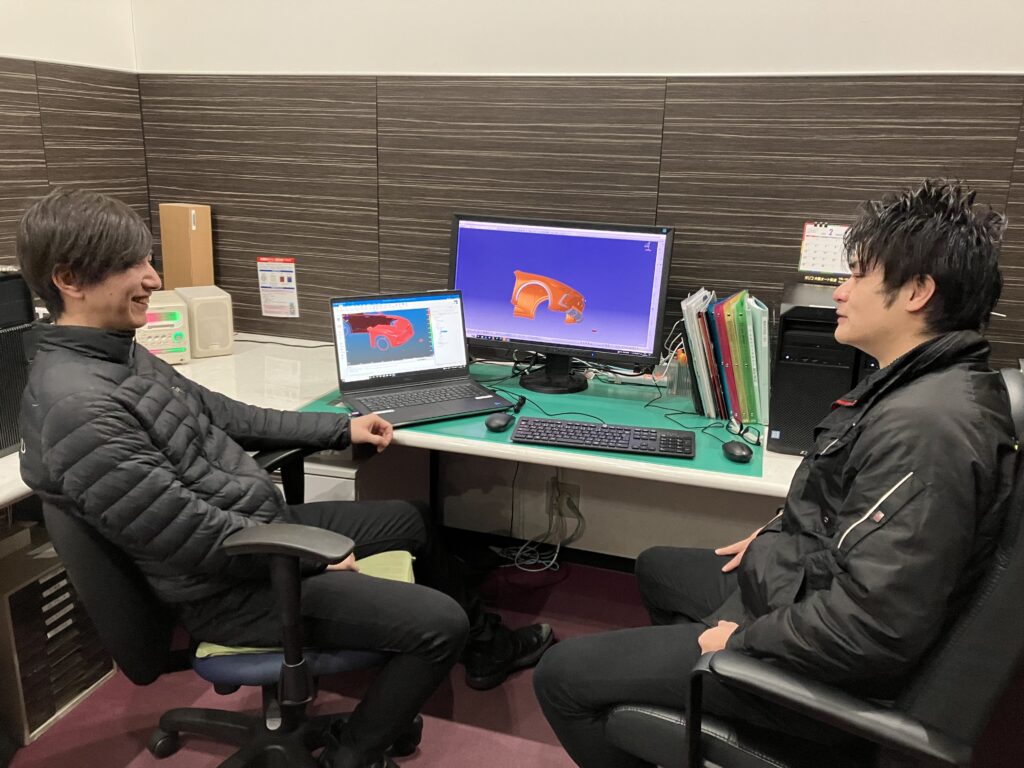 Because of the Covid-19, I was able to see an actual demonstration at the store in February 2022. I was amazed at the measurement using a Suzuki "Jimny".
No preparation and cleanup required at all.
What exactly attracted you to the system?
First of all, the ability to measure chrome parts as they are.
With the recent cars, there are more and more parts with glittering designs, and with the old measuring machines, it was impossible to measure such surface because of reflections. So we put anti-reflective sprays and markers that serve as reference points in advance, due to this preparation, the car needs to be washed and put back cleanly afterwards.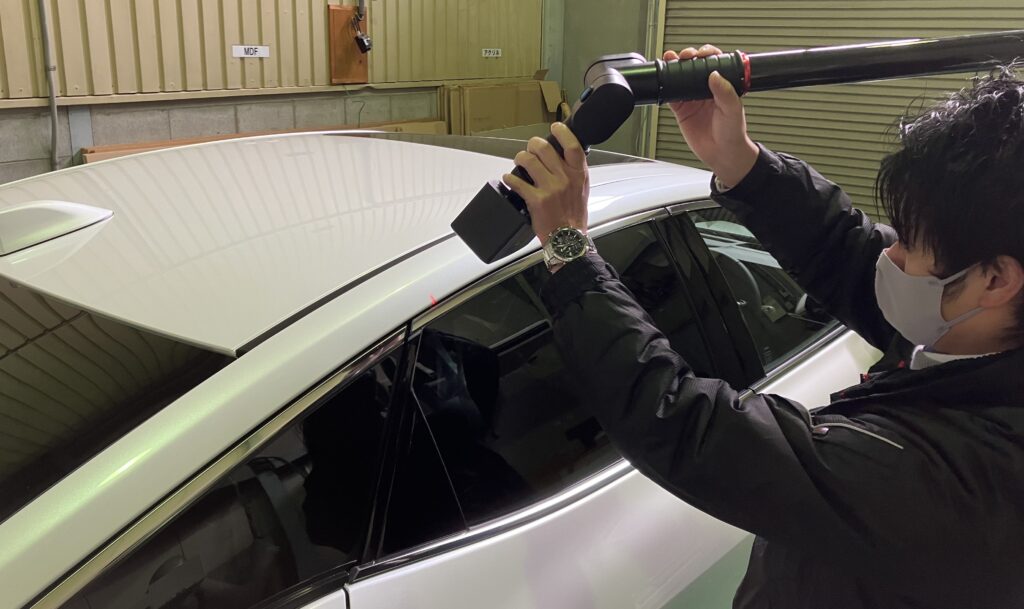 About 100 markers are applied, so it takes a lot of time and effort to remove them. It takes half a day to wash the car so as not to leave markers or spray. The Information System Department is mainly responsible for measurement and data conversion, but the measurement itself took 6 to 7 hours, and the setup, cleanup, and car wash were also our jobs.
But with VECTORON, the plated area is measured as it is, and the data can be properly obtained in a single session. It was a shock to me that all the preparation and cleanup was completely eliminated. I thought, "I don't have to do this anymore". The measurement takes 4 to 5 hours, so I can now use the rest of my time effectively.
The second thing that attracted me was the ease of handling.
For parts development, scanning the exterior, especially the underbody shape, is essential. However, the focal length of the measuring machine we were using before was so long that we had to lift the car up about 1 meter to get the data. The arm itself was also large and took a long time to carry, and in the end the arm sometimes did not fit under the car.
In the case of VECTORON, the arm can be used at the same height as the car. There is no need to move the car. In addition, VECTORON scans even the smallest of details that we want, such as the shape of the claw on the back of a part. The demo showed us how easy it is to use.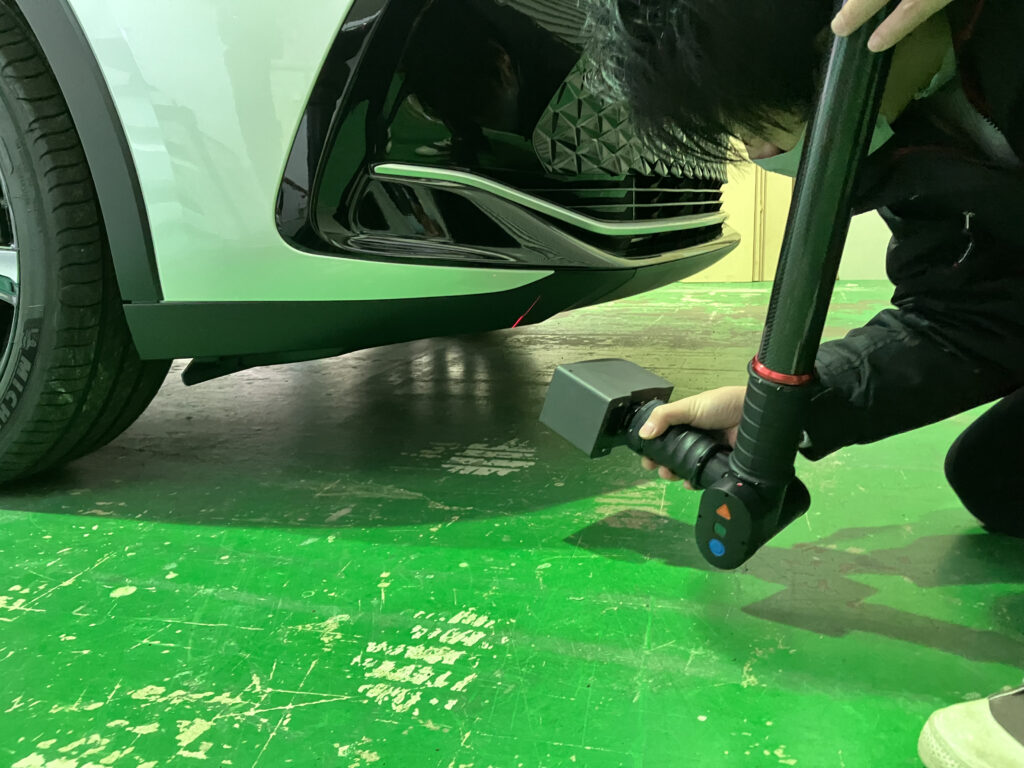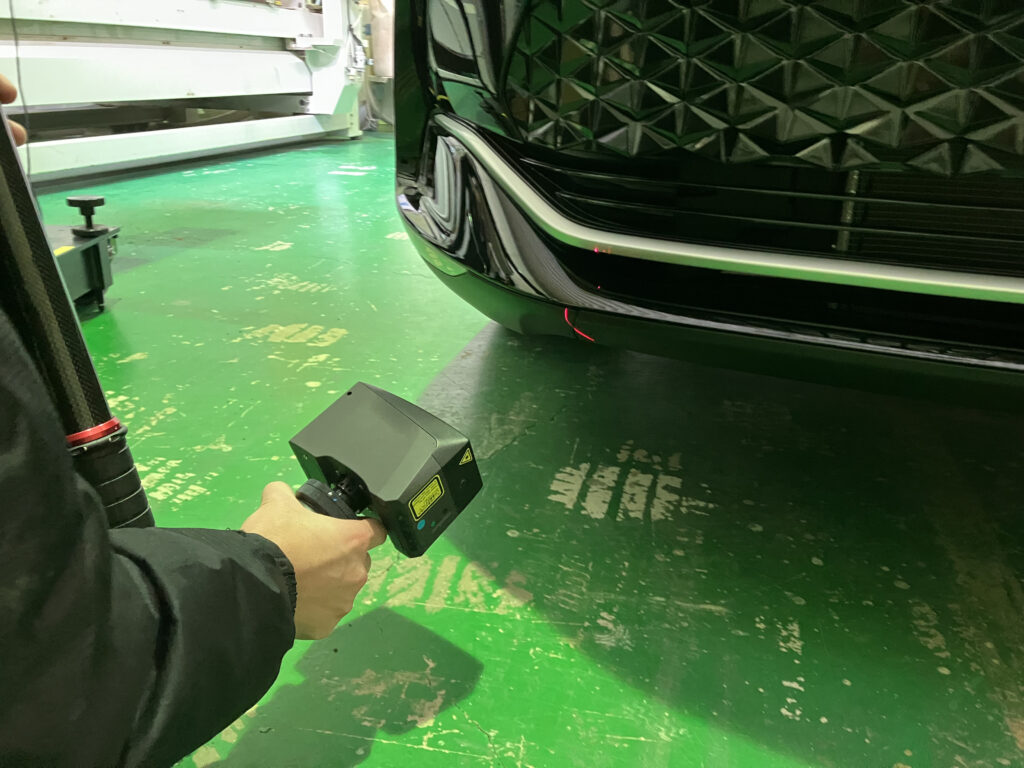 Third, the system can be used with a contact probe.
When measuring aluminum wheels, we can use the contact probe to draw a circle from elemental measurements and make wheel data. The ability to use the non-contact probe to obtain large surface data and the contact probe to obtain geometric element data, depending on the need, suits our application very well.
Were there any models that you compared with VECTORON before introducing it?
Yes, another company's arm-type measuring machine was a candidate. Both were well made, had high performance, and could meet our needs for accuracy to the nearest 0.1 mm. But in the end, we chose VECTORON because it was made in Japan.
The other company's product was made overseas, and we were told that if something went wrong with it, they would order parts from the home country. When the previous model also broke down, it took three weeks to a month to replace the camera, and we were unable to do any scanning work during that time.
But with VECTORON, I can contact TTS when something goes wrong and they respond immediately. The sales person of TTS also came to us frequently to ask if we had any problems before the introduction of the system, which made us feel very secure in terms of operation. This sense of security is quite significant.
Specifications + Personal follow-up by sales staff is reassuring
Is there any follow-up from TTS sales staff after the introduction of the system?
Yes, after installation, we had a 3-day training where we were taught how to operate the system using actual vehicles. The goal of the training was "to be able to perform the necessary scanning and data processing by ourselves, and to be able to pass the data to 3D CAD". The curriculum was prepared so that we could learn that much in three days.
On the first day, I was in a state of "I don't know anything," and started with "how to start, how to connect arms, and what the software can do". But after three days of training, we were able to process basic data, and after that, the first vehicle we measured on our own and connected to development and design was the new Toyota "Crown Crossover".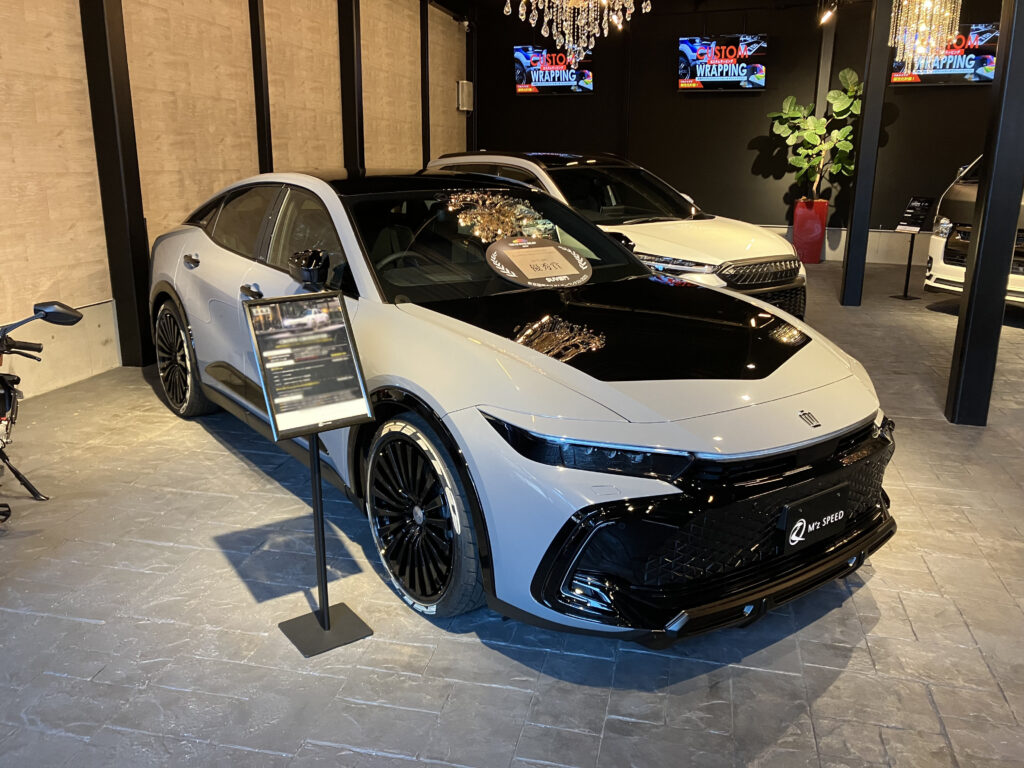 It is true that it takes some to be got used to how to operate the articulated arm. When taking data on the entire body of a car, we have to connect the measured areas, but if we only look at the screen, the measurement at hand may be underestimated.
But the TTS sales person is always watching how we use the system and gives us advice on how to do this, which I appreciate. Regarding the measurement of the entire body, we were taught not only how to move the arm but also the key point that "by using the software's new functions, we can connect data more easily than before," which actually made our work much easier. The follow-up is very meticulous.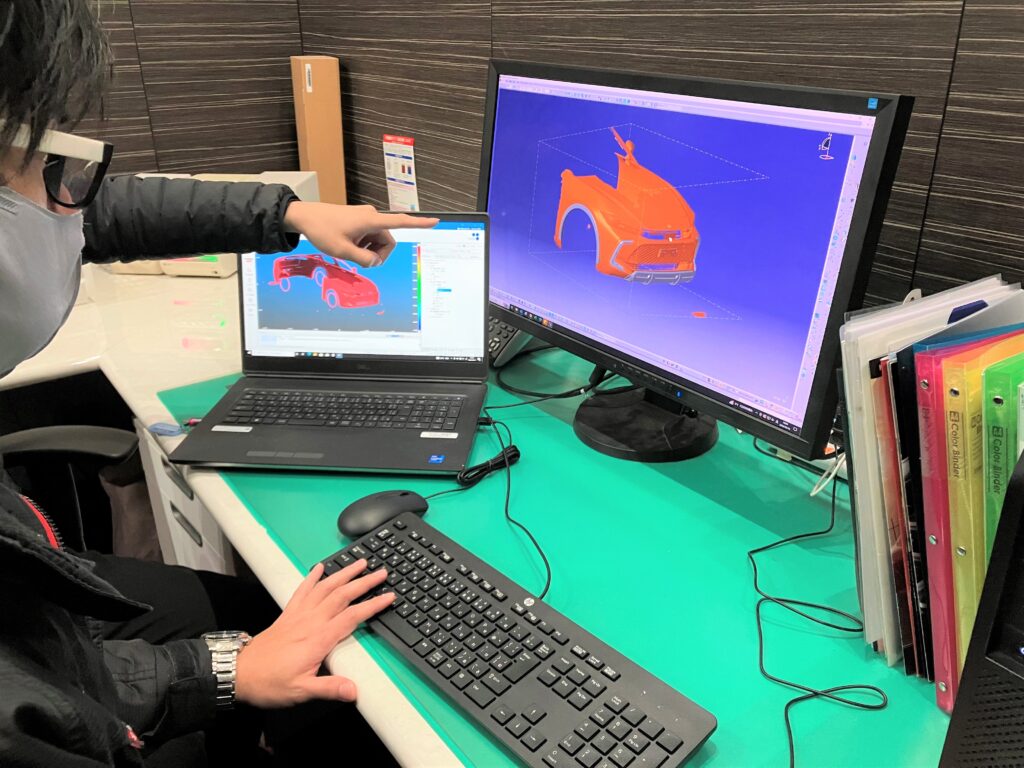 We use various other precision machines in our company, and the sales person of TTS are very helpful because he visits us very often and asks us about any problems we may have.
What are the advantages of using VECTORON?
The biggest advantage is that we no longer have to do the preparation and cleanup for measurements. When a new car is delivered, VECTORON allows us to finish the measurement on the same day, and data processing before design can be done in one or two days.
Before, we used to wash the car the day after the measurement. The time we used to spend cleaning up can now be put directly into design development, and the schedule until product sales has been shortened considerably. After a new car is released, all parts manufacturers try to release new products as soon as possible, so we are able to get off to a quick start among them.
In recent years, the designs of automobile manufacturers have become more and more elaborate and detailed. Our parts makers are competing to provide the coolest dress-ups to match those designs. VECTORON, which enables efficient and precise measurement, and TTS, which supports us, will continue to be a good partner for us in the future.

Matsumoto Automobile Co., Ltd.
Founded in 1968, M'z SPEED, a manufacturer of aero parts and aftermarket parts for automobiles, operates nationwide. In addition to directly managed and franchise stores, the company has its own factory to correspond to orders. For many years, the company has been developing products using 3D CAD design, and at the Tokyo Auto Salon 2023, a fully customized version of Toyota's new Crown Crossover won the SUV Category Excellence Award. The company generously offers its design and technical capabilities to its customers.
Product used in this case study VECTORON