The culmination of 40 years! Real-time analysis / arm-type articulated 3D measurement system
Product Description

This is the industry's only Made in Japan articulated 3D measurement system with the longest history and largest record of use in the Japanese market.

Using contact probe and non-contact laser, it is used in all quality control work, dimension inspection, assembly inspection, CAD comparison, deformation analysis, reverse engineering, etc.

Based on the concept of a system that anyone can easily measure anywhere, it is used mainly in the development and manufacturing sites of automobiles, such as automobile press and resin parts, jigs, and inspection tools.

It is also used in a wide range of industries such as heavy industry, construction machinery, government offices, and home appliances.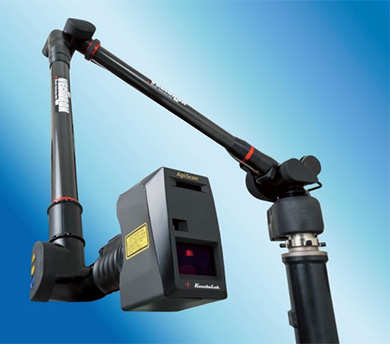 Product Features
Pride of ALL MADE IN JAPAN
The industry's only fully domestic articulated 3D measurement system, developed at the request of Japanese automotive customers.
The arm is developed and designed by Kosaka Laboratory Ltd., which has a factory in Misato, Saitama Prefecture. TTS is in charge of developing and selling data processing and analysis software.
Vectoron developed based on the requirement of Japanese customers, promises design structure meeting the needs of the site, detailed support , maintenance response capabilities and long-term parts supply due to its domestic production. Also, unlike overseas products, there is no expensive hardware maintenance costs, and the running costs can be reduced.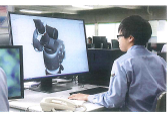 TTS Customized Package
TTS strength lies in engineering and customizing packages tailored to the customer's unique specifications. It is our uniqueness that we develop products by discussing with customers at actual site. Also TTS supports various types of customization, for example, a tower type Vectoron integrated with a surface plate that can measure the vertical/base direction at once, a special probe tailored to the application, dedicated measurement function for work leveling, a form function of automatic output and data aggregation trend management, etc

High-precision arm and in-house developed non-contact laser sensor
Vectoron is a portable measurement system that can be easily carried without the need for preparation before measurement, complicated setup and precision adjustment.
The arm type is a highly flexible measurement system that can easily measure products with complicated shapes and complicated structures.
Measurement methods that contribute to time savings and innovation in measurement work
Contact probe measurement: Dimensions and geometric elements measurement
Non-contact laser measurement: surface shape, deformation, distortion, etc.
Easy calibration
Stable measurement accuracy can be maintained because the accuracy check function is equipped as standard. It is possible for customers to adjust the accuracy themselves and grasp the operation status of each part of the main unit in real time, which speeds up maintenance and troubleshooting.
High-precision, lightweight arm designed based on ergonomics
Equipped with a new flexible brake that can fix the arm at any location, relieving workers from the fatigue of on-site work.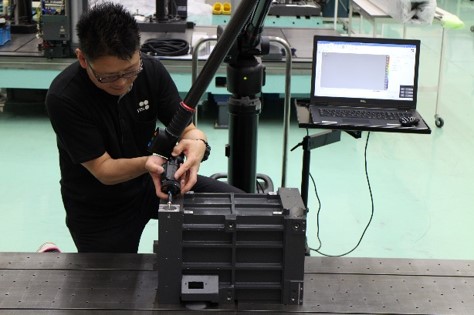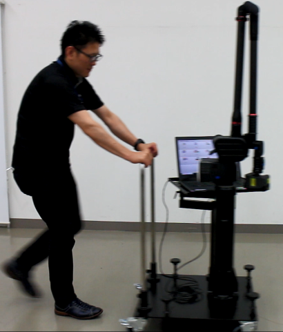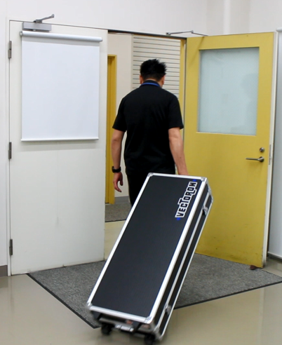 Non-Contact Laser Measurement
For various purposes such as non-contact data, holes, fine shape, and luster materials

The world's fastest sensor for instant analysis of the shape and larger sample size.

Control and Analysis Software
Either 3D-Magic REGALIS or Polyworks can be selected depending on the application.
Product Specifications
Model
VMC7000M
VMC7000L
Probe maximum move range
X-axis direction
3500mm
3900mm
Y-axis direction
3500mm
3900mm
Z-axis direction
3312mm
3712mm
Accuracy
(based on our standards)
Fixed point reproducibility
2σ:0.03mm
2σ:0.05mm
Contact-type measurement accuracy
2σ:0.04mm
2σ:0.063mm
Non-contact measurement accuracy
±0.06mm
±0.08mm
Measuring arm
Total length
1750mm
1950mm
Freedom
7 joints
7 joints
Mass
Approx. 12kg (includes non-contact controller)
Approx. 13kg (includes non-contact controller)
Power supply
AC100~240V, 50/60Hz, 115VA(does not include PC)
Device weight
VTL03 specifications
Approx. 21kg
Approx. 22kg
VTL41 specifications
Approx. 108kg
Approx. 109kg
VTL60 specifications
Approx. 77kg
Approx. 78kg
Sensor spec
Model
PU-OL100-SP
Size
76(W)×106(D)×124.6(H)mm
Weight
Approx. 640g
Beam diameter
φ0.183 mm or less
Measurement Z width
60mm
Stand off
145~205mm
X Pitch
0.016~0.063
Visual field length (width)
21.56~213.54mm
points per line
201 to 513 points per line
Measurement lines
30 to 60 lines per second
Related Solution
Application
Press
・Automobile press
・Precision press
・Covers
Die
Casting
・Molds
・Cores
・Products
Die casting
・Products
・Die maintenance
Vehicles
Large welded structures
・Automotive body
・Construction and agricultural machinery
・Heavy industrial components
Resin molded products
・Bumpers
・Covers
・Interiors, etc.
Jig and inspection tools
Metal processing products
Clay models
Fiber and fabric materials
Measurement of forged and fabricated materials
・Carbon fibers
・Foaming agents
・Large casting
Pipes
In-process measurement
In-line trend inspection
Combination item
Related Product