ATC magazine equipped, horizontal simultaneous 5-axes model processing machine
Unmanned machining using clay and resin, All-in-one machine
Product Description
An all-in-one model that can machine cut foam, artificial wood (resin) and full-size clay models.
Equipped with an auto-tool changer (ATC) to enable automatic tool exchange.
The head is equipped with a dust collection port for fine particles in the air during cutting, which enables the machine to collect dust as it work on machining tasks.
Has a small total height in comparison to gate type machines so it can be installed in existing machinery housing
The user interface is simple and easy-to-understand so operators can learn to use it in a short amount of time.
Reduces conventional processing times by 1/3 due to the high speed of the main shaft and simultaneous 5-axes control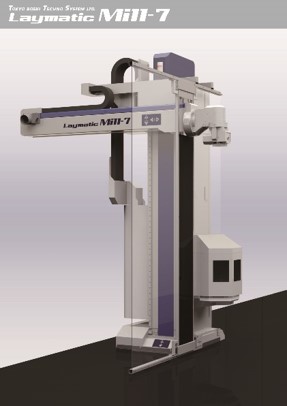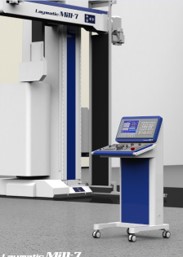 Product Features
Since it can process while collecting bothersome dust in the air while machining resin and foaming agent, this reduces the time for cleanup work after processing and reduces dust inhaled by the operator. Can continue processing unmanned at night and over the weekend due to the automatic tool exchange function. Has a user interface that can be used without knowledge of G-codes, which is different to machine tools, allowing anyone to easily use it. An all-in-one model that can process objects from clay models to foam agent and hard models at a single machine, since it has the accuracy and machining quality required for hard models despite it being a horizontal type machine.
Product Specifications
Machine stroke
Arm
1,550mm
Column
2,500mm
Base
6,500mm
Machine operation accuracy (at 20°)
Each axis ±0.05 mm/axis
Simultaneously controlled axes
5 axes simultaneously (XYZBC)
Main shaft
3.7 kw Up to 24,000 rotations
Head indexing angle
C axis ±120°
B axis 0 to ±180°
Speed
Fast forwarding 25 m/min
Cut feed 15 m/min
Power supply
AC200V ±10% 50/60Hz
Weight
Machine 4,000 kg
Application
Scale models, full-size models, exterior models, interior models Core foam material (styrene and urethane), soft resin, hard resin General use from core manufacturing to clay models, or from resin processing for headlamp and grill resin models to full-size hard models. Can also operate while unmanned at night and over the weekend. For such as resin processing at locations where you do not want to allow dust to disperse.
Related Product