Mission

Automate the assembly of large structures to improve production efficiency and reduce costs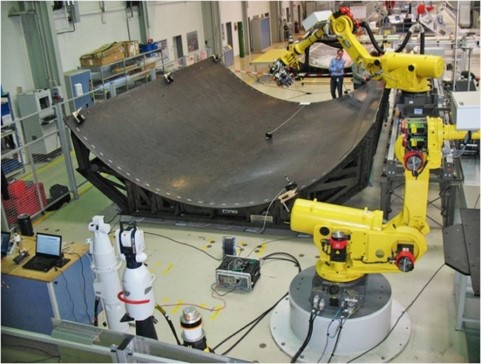 Solution
Leica automated solutions are widely used as "assembly assist measuring (MAA : Metrology Assisted Assembly)". A revolutionary system that enables significant cost reductions and labor saving for assembly performed on dedicated machines traditionally used for such tasks and human-assisted assembly.
Proposal Contents
Leica Laser Tracker AT960(SR)/MR/LR/XR + T-Mac + software (SA Machine, TTS development software, etc.)
The work piece can be automatically assembled by monitoring its position accurately using a 6 degrees of freedom tracker system. This guarantees very high productivity and greatly improves product quality.
Leica Laser Tracker is also used for automatically assembling aircraft. Using the T-MAC system with simple movable jigs or parts installed on the robot enables highly precise assembly while controlling to 6 degrees of freedom on-line.
Using Leica Laser Tracker enables highly reliably assembly without depending on absolute accuracy for the robot and jigs.
System Configuration
System Image

Related Product