The latest laser tracker that realizes high-precision measurement with portability and various applications
Product Description
Leica Laser Tracker can measure large areas with high accuracy.
The tracker can measure 3D dimensions using the wireless probe T-Probe and measure 3D shapes without making contact using a handy type scanner (3 types), in addition to the reflector measurement method that has been used in the past.
It can also perform automated system and robot calibration for such tasks as automatic measuring and automatic assembly by robot and processing machines, and of course manual measurements.
A laser tracker is highly regarded for its reliability, and superior in terms of accuracy, speed and compatibility with various types of measuring software.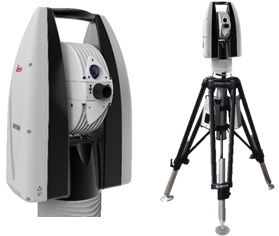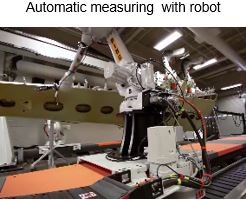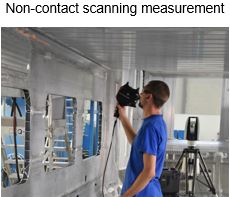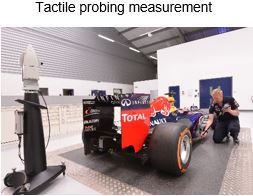 Product Features
All-in-one portability
The Leica Absolute Tracker AT930/960 system, the latest model of Leica Laser Tracker, is powered by a battery and has wireless communication between the system and PC so you only need to carry the system to the work site to enable measurements to be taken.
The most reliable and versatile laser tracker
Leica Laser Tracker AT960 is a model that can support tasks that range from manual measuring to automated measuring (both automated measurement and assembly) and robot calibration. Thousands of Leica Laser Tracker units are used in major industries.
Built-in environmental sensor
The environmental unit integrated into the tracker unit monitors environmental conditions such as temperature, air pressure and humidity to guarantee that measurements are accurate with no influence from external factors and corrections.
AIFM range finder unit
A Leica proprietary developed range finder unit that uses an absolute range finder and interferometer at all times. AIFM has dynamic performance and can lock on to a target without fixing it in one place.
Power lock system
The Leica Laser Tracker AT930/960 system is equipped with a power lock on system that enables the laser tracker to automatically find and lock onto a moving target. This eliminates the troubling task of locking onto the target again, which took a lot of time in the past, and can significantly improve efficiency for the work time because there is no need to keep the target still even if the laser beam is blocked, and the laser beam locks onto the target automatically without requiring a user to operate it.
IP54 (Adapts to all environments)
The measuring sensor unit and the controller can be used under harsh conditions because of the fully sealed design that received IP54 certification. The Leica Laser Tracker AT930/960 system can be used outdoors without any problems, even in rain.
Product Specifications
Unit model type
AT930
AT960-SR
AT960-MR
AT960-LR
AT960-XR
Measuring range (diameter)
Reflector measurement
120m
12m
40m
160m *
160m *
T-Probe measurement
-
10m
20m
40m
60m *
T-Scan, LAS, LAS-XL measurement
-
10m
20m
40m
60m *
T-Mac measurement
-
10m
20m
40m
60m *
Measurement range
(horizontal direction)
360°
Measuring range
(vertical direction)
±145°*/360°
*When setting up for horizontal direction
Measuring and tracking performance
Measuring rate
3,000 points per sec.
Measuring output rate
1,000 points per sec.
Measuring accuracy
Measurement accuracy Uxyz
Uxyz=±15μm+6μm/m
All accuracy values are shown as maximum permissible errors (MPE), are calculated based on ASME B89.4.19-2006 & draft ISO 10360-10, and use a precision Leica 1.5-inch red ring reflector unless otherwise indicated
Reflector measurement at 120 m, T-Probe, T-Scan and T-Mac measurement at 50 m are within the guaranteed accuracy.
Only reflectors can be used for the AT930.
Related Solution
Case Study
Combination item
Related Product
Related Video